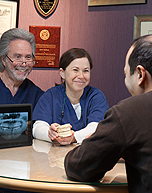 At West Hartford, CT dentists Goodman & Stein, our focus is on providing high-quality dentistry for the entire family. We combine our expertise and experience with the finest materials and latest technology to ensure your family receives the best modern dentistry. In addition to a complete exam and treatment plan, each patient receives our full attention and care. Plus, we'll treat each member of your family like a member of our family. If you're looking for high-quality dental care with a gentle touch, please browse our website for more information on how we can help your family achieve and maintain optimal dental health.
As part of our mission to provide high-quality dentistry, we utilize the latest technology. For instance, we use digital x-rays, which expose patients to far less radiation than traditional x-rays. We know that finding and filling cavities prevents problems of all kinds, so we use a special laser that detects decay in its earliest stages; it helps us preserve as much healthy tooth structure as possible. And, our intraoral camera allows Doctors Goodman and Stein to show you exactly what they see and to easily explain possible treatment.
In addition, Doctors Goodman and Stein and their staff are committed to staying up-to-date with developments in dentistry attending a number of continuing education courses each year. This commitment enables us to offer patients the newest treatment options and the latest cosmetic advancements, too.
West Hartford, CT Dentists Joel Goodman and Tamara Stein.